Why kayaking in Latvia?
Latvia has many other awesome things to offer especially if you like nature, outdoors and the concept of ecotourism. Kayaking in Latvia (hereinafter also canoeing) are among the best this to do in Latvia and here is why.
Latvia is rich with waters. We have around 12,000 rivers and 3,000 lakes here. Many of them are perfect for kayaking, canoeing, and other boat trips. Late spring, summer, and early autumn (from May till September) is the best time for this activity here. Here are the best places fo kayaking sites in Latvia.
#1: Gauja River Valley and its tributaries
Gauja River is the most popular river for kayaking, canoeing and other boating in Latvia. It is in the central part of Latvia called Vidzeme. Gauja is 452 km long. It the longest and the second biggest river in Latvia and provides many great and scenic kayaking in Latvia options.
The river can get a bit crowded during the weekends and holidays. In the summer months, you will meet lots of fellow kayakers there. This does not mean that you cannot find serenity in Gauja River Valley though.
Kayaking in Latvia is in general not crowded experiences as the country itself is with a small population (we are only 1.9 million here) and it is also not yet uncovered nature travel gem for most of the travelers.
Besides if you go exploring Gauja River Valley on working weekdays, you'll be almost alone even in the middle of summer.
While kayaking in Latvia people usually want to see the famous sand cliff landscapes of Gauja National Park – the oldest national park in Latvia. The most popular kayaking trips in Gauja river are in between the cozy town of more than 800 years history Cēsis and the scenic Sigulda town. This kayaking section is about 50 km/31 miles long two days kayaking trip. You can divide it into two parts: Cēsis – Līgatne (30 km/19 miles) and Līgatne – Sigulda (20 km/13 miles): one day trip each.
Alternatively, you can choose to go more off the beaten path and combine a gorgeous kayaking trip both in the Gauja River and in its wild tributary Brasla. It is an amazing kayaking destination.
#2: Kayaking on Irbe River
Irbe River is special with dense forests and the high sand dunes on its banks. It is in the very western part of Latvia – near the open Baltic Sea coast in Kurzeme. So it is truly off the beaten path.
The most popular kayaking section is from Rinda village down to the delta of the river in the open Baltic Sea. This is a two-days' relaxing yet wild kayaking trip or one-day good workout of 38 km/27 miles. You'll never be disappointed here.
The trip actually starts in Rinda River, which is Irbe's tributary.
You can take multiple breaks on your way, enjoy the sun, (if it's a sunny day), sand and take a swim in the river.
Set-up an overnight camping site on the top of the dunes and you will have stunning views to wake up with.
Irbe River is also special because you can end your kayaking trip in the open Baltic Sea. You will find a gorgeous, wild and sandy beach here. It is really memorable. Take a chill out on the beach after paddling.
if you are looking for more tranquility I would recommend going there in working days during the hot season (especially in July). We can help you to arrange an unforgettable kayaking trip to this remote area.
#3: Abava River
There are no many places for kayaking in Latvia that has so many different sightseeing places as the gorgeous Abava Valley Nature Park. It is in the western part of Latvia called Kurzeme.
You can choose one-day active kayaking trip from the town Kandava down to the Abava Rapid (29 km/ 18 miles). This section is actually a well-beaten and popular path for kayakers and water tourists here, but it is great. There are many interesting sightseeing places on your way. You can visit the beautiful and cozy Kandava and Sabile towns before or after your kayaking trip here.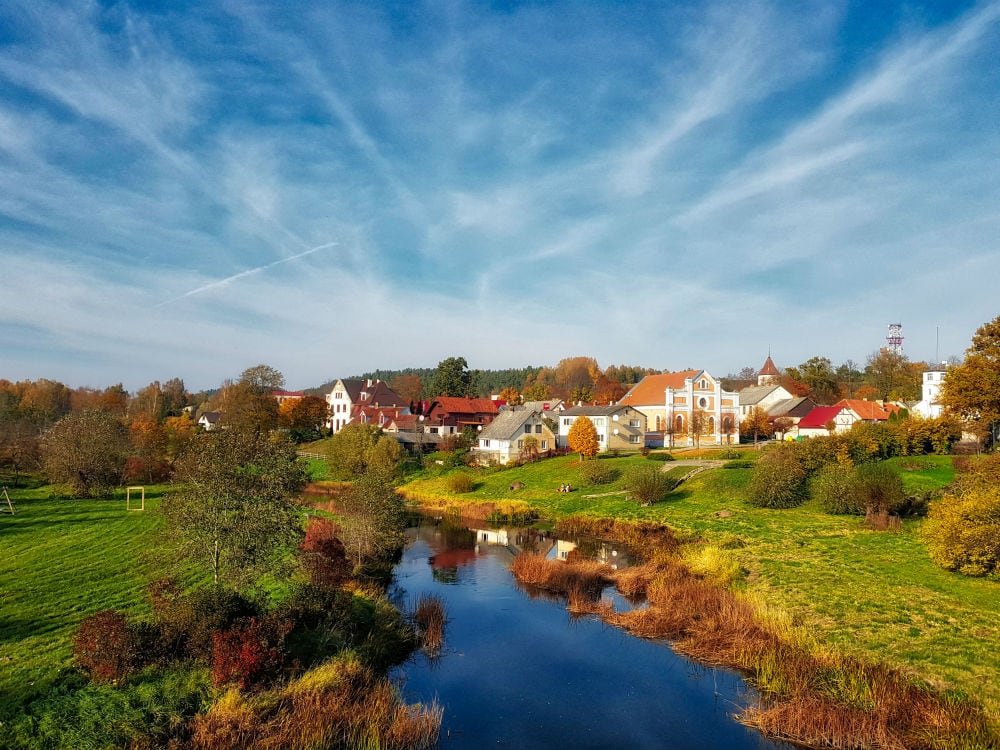 During your kayaking trip on Abava River from Kandava Town, you can also stop to see the so-called Devil's Cave (Velnala) and Devil's stone. You can also stop for a nature trail in Cuzu Mire Nature Reserve near Kandava. It is one of the oldest nature reserves in Latvia.
The second option for kayaking on Abava River is truly off the beaten path. This is a two-day kayaking trip from Renda Village down to Nabas Lakes, where Abava meets bigger Venta River. It is a wild 43 km/27 miles long river section.
#4: Salaca River
Salaca is another beautiful river in Latvia. It is in the North Vidzeme Biosphere Reserve. Salaca is in the very north part of the Vidzeme region. It is the second most popular river for kayaking in Latvia after Gauja. However, for most non-local visitors, it is still off the beaten path and definitely worth visiting kayaking/canoeing destination.
The best kayaking section here is from Mazsalaca town down to Staicele town. This is a 39 km/24 miles two-days' kayaking trip with many sightseeing places. There are gorgeous sandstone cliffs like Skaņaiskalns, Bezdelīgu Cliff, and other beautiful places on the way.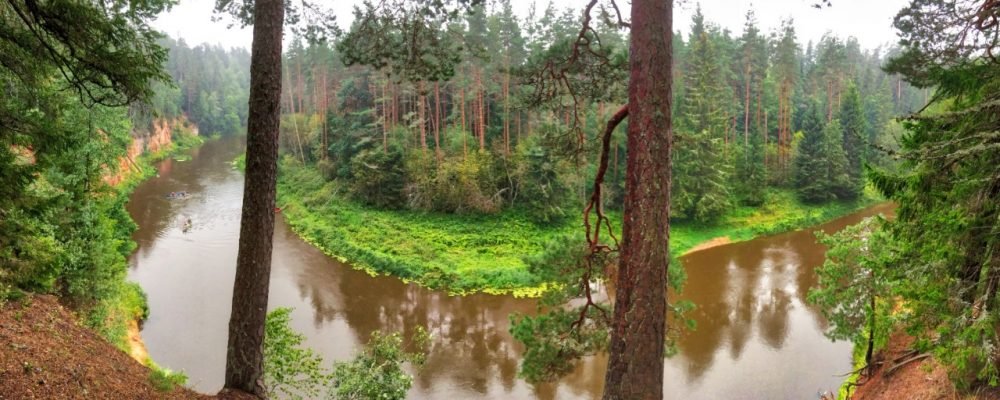 #5: Kayaking in Latvia – "Land of Blue Lakes"
Finally, to get fully immersed in nature try two or even three-day kayaking trip in "Land of Blue Lakes" – Latgale. It is the eastern region of Latvia. Latgale is rich with lakes of different sizes. Hence it provides plenty of opportunities for kayaking and canoeing.
You can opt for several kayaking trips in the lakes in Latgale. Some are more and some less popular. However, all are off the beaten path and you will see pristine nature almost everywhere in Latgale.
The most popular kayaking destinations here are Lakes like Rusons, Ciriss, Dridzis, Ezezers, Sivers, Razna and Lubans. Read more about the best kayaking trips on Latgale lakes here.
#6: Daugava River
And finally, there is the majestic Daugava River. It is very special for Latvians. We call it the River of Destiny. The most scenic part of Daugava river is Nature Park "Daugavas loki" (or Daugava meanders in English).
You can go kayaking in Daugava river in the far east of Latvia from Krāslava town to Daugavpils city, or choose any kayaking destination downstream near Jēkabpils and Koknese towns.  The key tip here is to go kayaking when the water level is low, i.e. in summer, so you can better see the beautiful banks of this river.

You can even explore Latvian capital city from a different perspective while kayaking in the Daugava river in Riga.  There are many kayaking routes in Riga. You can enjoy the city center, go to the green natural areas of the city and even visit the harbor and ship docks on a kayak here.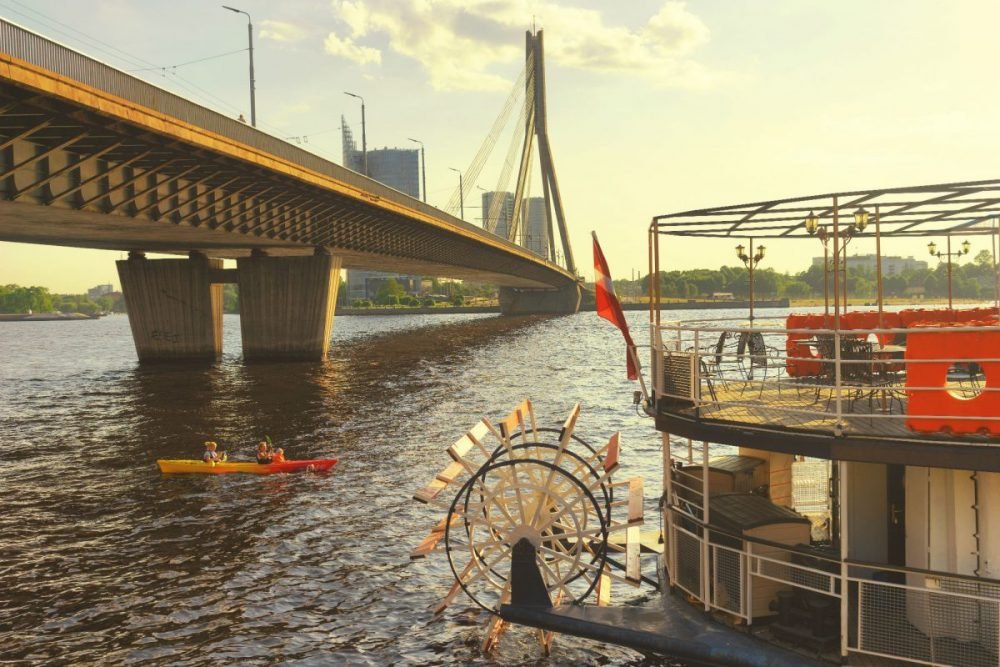 Summing-up
Kayaking in Latvia is one of the best things to do here if you are looking for great activities in nature and if you visit Latvia somewhere between May and September. The kayaking trips in Latvia are among the best ones in Northern Europe.
The above list of kayaking and canoeing places in Latvia is not exhaustive. Neither any of the top six destinations are better than another. Gauja, Irbe, Abava, Salaca and Daugava rivers, as well as the lakes in Latgale, are all great for kayaking trips in Latvia. It all depends on your preferences and time that you plan for these amazing experiences.
Read the full escaperies.com post about hiking in Latvia here.
What do you think about kayaking in Latvia? Are you ready to try it? You are welcome to contact us for more details to i-da@i-da.lv. "i-DĀ" Adventures can also arrange any type of private or small group kayaking trips in Latvia for you.